2022 Found Object
---
Found Object




The work Traditional Heritage was created from observations of what remained of a time in our home environment, the Black Forest. The project consists of different consecutive works which can be perceived together as a collage of our observations and the interpretations that follow from them. The aim is to try to convey a holistic picture of the Black Forest from history to the present.



The following Catalogue is a collection of images of artifacts from the Black Forest. It functions as an insight into the product and tool peripherals of the 17th to 19th century. What brought need and naturally served the purpose of a cause was created. Today, less necessity driven, we refer to this process determining starting point as pragmatism. A large part of the artifacts in the Black Forest around the 17th-19th century were created out of necessity. That is why the objects shown are also categorized according to the materials that were frequently used at the time: wood, glass, metal. The materials are based on the naturally occurring resources in the Black Forest area. Different crafts evolved from the combination of people's needs and the raw materials to which one had access. With limited resources, people have holistically used their environment and what was available to them from it. Something we can learn from today, as everything is available to us at almost any time and place.

The idea behind the different objects is also reinforced by the adjacent images of detailed views. The details clarify special features in the process, assembly, use, etc. For each object, there is a word description, the dimensions, the materiality, and an approximate time classification.

"Found object" refers to the term "object trouvé", an object that is declared as a piece of art because of someone found it and titled it as such.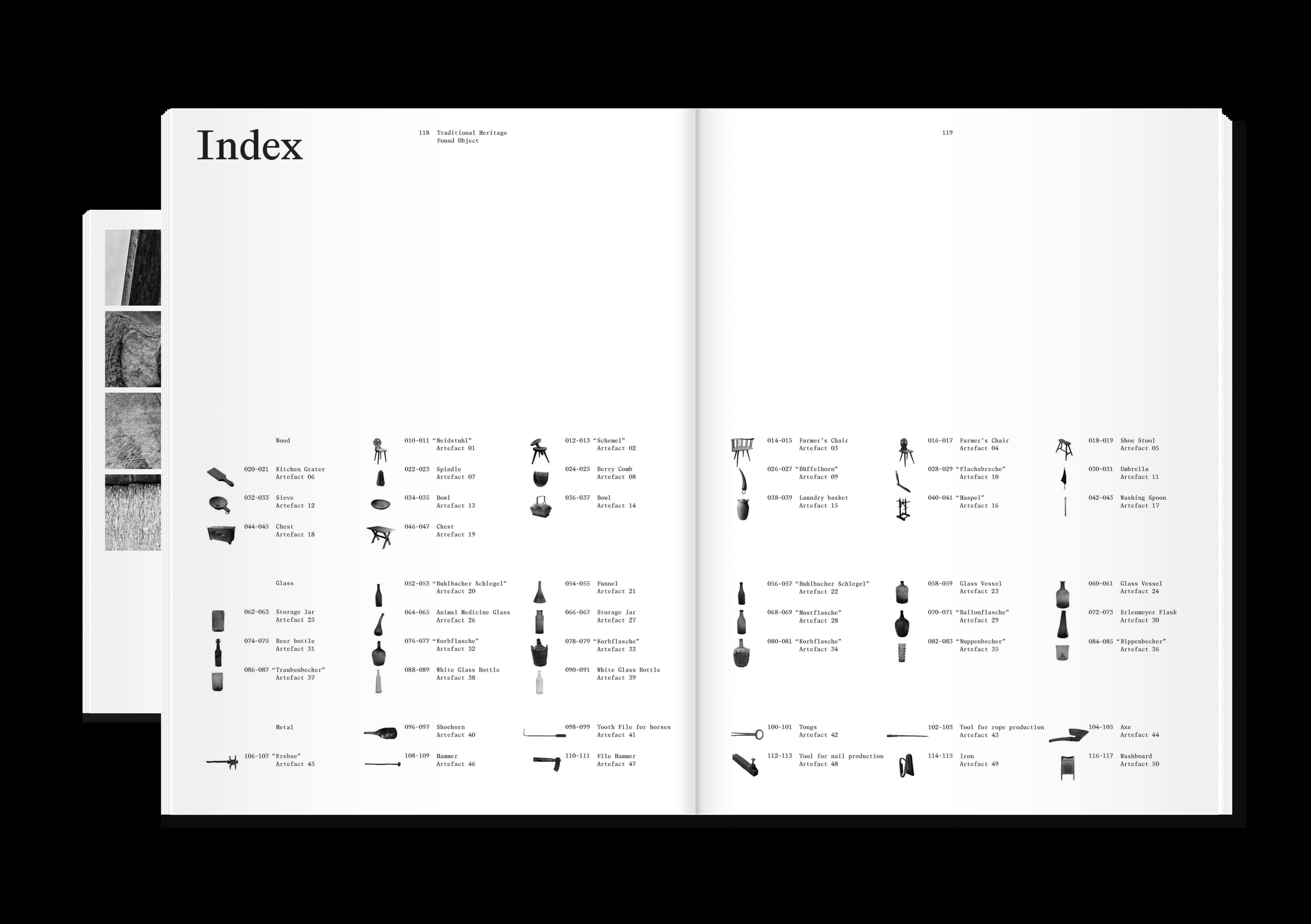 Dimensions
Catalog: 28cm x 20cm x 1cm.

Material
Object: paper, ink.
Collaborator
Grafik Design: Sonja Schwarz︎︎︎.
Typeface: Giallo (Stereotype).
Photo credits: Lenn Gerlach, Kyra Heilig.
Images: Heimatmuseum Freudenstadt.
Gemeindearchiv Baiersbronn.
Kulturpark Glashütte Buhlbach.
Private heirlooms family Epple
Library Footage: SLUB / Deutsche Fotothek
Private Archive Jürgen Morlok.
Text Translation: Lynne Vivian.